Association for the Scientific Study of Consciousness
TOKYO
July 2-5, 2024
Welcome
The 27th annual meeting of the Association for the Scientific Study of Consciousness will be held at the University of Tokyo on July 2-5, 2024. We are very much looking forward to welcoming you to Tokyo, Japan.
The usual range of disciplines and theories are welcome!
Proposals for tutorials and symposia at ASSC27 are now open.
Please submit proposals through the forms here:
  - symposium form: https://forms.gle/qC3QZEDNvk1f9syY9
  - tutorial form: https://forms.gle/ZA8LpnjYKtCMpwcu7
(due October 15 25, 2023).
Proposals for tutorials and symposia
We are now inviting proposals for symposia and pre-conference tutorials. The submission deadline is October 15, 2023. We have extended the proposal submission deadline for tutorials and symposia at ASSC27 in Tokyo. The new deadline is October 25.
Symposia Submission: Submit Here
The Program Committee welcomes symposia proposals on any topic pertinent to the scientific exploration of consciousness. Typically, each ASSC conference hosts four symposia, each lasting around two hours with four speakers. We encourage a diverse range of topics, especially those that might have been underrepresented in past conferences. ASSC prioritizes symposium proposals that center on specific questions over loosely related talks. Proposals that merge various methodologies around shared questions are especially valued. Intellectual and demographic inclusiveness are key criteria for selection. All symposium participants will receive complimentary conference registration.
Tutorials Submission: Submit Here
A core objective of ASSC meetings is to broaden researchers' horizons in areas they might be unfamiliar with. We invite tutorial proposals on a spectrum of consciousness science topics, scheduled for the inaugural day of the conference. Presenters should not only share their own insights but also provide a comprehensive tutorial overview, fostering discussion, debate, and audience engagement. Each tutorial is designed to span roughly three hours, including a brief intermission. Tutorial leaders will be awarded an honorarium (one per tutorial, not per presenter). Tutorials may have 1-4 presenters, and if registrations fall below 10 participants, the tutorial may be preemptively cancelled.
Conference Location
ASSC 27 will be held at the Ito International Research Center and Yasuda Auditorium on the Hongo Campus of the University of Tokyo. This location is where the traditions of Japanese beauty and contemporary glamour come together in harmony. In the vicinity, you will find Nezu Shrine, renowned for its vermilion torii gates and serene gardens, as well as the lively Ameya-Yokocho, offering a unique shopping experience. You can enjoy a variety of culinary delights, from traditional Japanese cuisine to global gastronomic adventures, in charming cafes and restaurants both on and off campus.
We invite you to experience the fascinating fusion of beauty and knowledge at ASSC27.
Yasuda Auditorium
7 Chome-3 Hongo, Bunkyo City, Tokyo 113-0033. Tokyo,
Ito International Research Center
7 Chome-3-1 Hongo, Bunkyo City, Tokyo 113-0033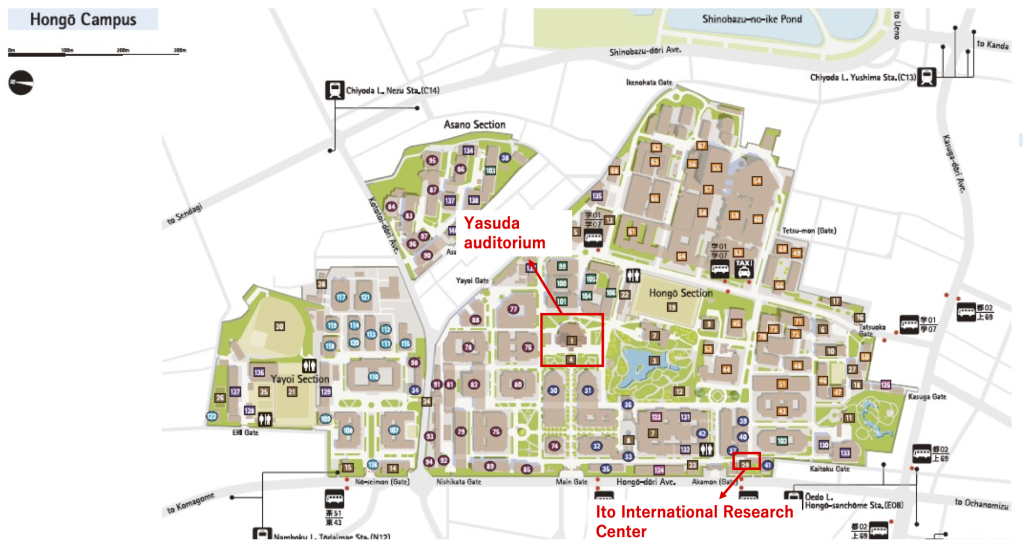 Local Organizing Committee & Scientific Committee
Local Organizing Committee
Ryota Kanai, Chair
Kaoru Amano
Olivia Carter
Lucie Charles
David Ha
Ai Koizumi
Hakwan Lau
Ying-Tung Lin
Yukie Nagai
Masafumi Oizumi
Shuntaro Sasai
Won Mok Shim
Shigeru Taguchi
Makiko Yamada
Masatoshi Yoshida
Ned Block
Olivia Carter
Lucie Charles
David Chalmers
Athina Demertzi
Rachel Denison
Nadine Dijkstra
Sarah Garfinkel
Carolyn Dicey Jennings
Robert Long
Pedro Mediano
Lucia Melloni
Matthias Michel
Liad Mudrik
Megan Peters
Jacobo D Sitt
Emmanuel A Stamatakis